Welcome to Seameadows Estate
Sea Meadows is a 21 acre estate on the Queen of the Gulf Islands ~ Gabriola. The island is just a 20 minute ferry ride from Nanaimo, and once you have arrived, Sea Meadows is less than a mile from the ferry dock.
The estate consists of four homes connected by a paved, 1/3 mile oval driveway, in a very private, peaceful, and pretty and park-like setting. The main residence is set back about 1/3 of a mile from the rental homes to ensure maximum privacy for all. There are four houses on the estate. The first two "The Gate House" and "The Round House" are approximately a city block apart, and are 150 and 300 feet from cozy Descanso Bay. The third house, "The Honeymoon Hideaway" is set back further, and has its own private setting. The fourth house, called the "Estate House," sits alone on top of a small hill overlooking the valley, down to the sea and is rented with the other three houses as a single unit/estate! Each house's setting assures privacy for all. Only a lightly traveled road separates the estate from the natural cove and unobstructed beachfront. The beach is a typical B.C. beach, rocky and sandy yet flat walk on waterfront. You may beach comb, swim or even launch and anchor your boat in the bay. For large boats there is a marina 10 minutes away.
The entire estate is walled in on 3 sides by trees, with a concrete entrance, and entrance pillars in front. We are also able to accommodate 36 and more guests. In addition the property is available for short-term and long-term, as well as weekly rentals. It is perfect for a corporate retreat, family reunion, wedding, etc. Of course as listed each house is available as a private estate or each may be rented separately. All are individually private.
For Holidays and Special Events.
Airial view of the property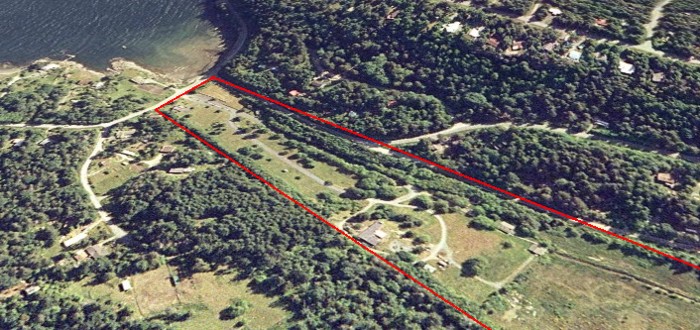 ISLAND ACTIVITIES! Discover Gabriola Island! There are many activities available for both children and adults: A golf course and driving range, public tennis courts, two (2) marinas with long or short term charters available for fishing or exploring. There are natural parks that are perfect for hiking, biking and jogging. Some points of interest on Gabriola include Malaspina Galleries, Sands Provincial Park, Berry Point Lookout, Millstone Quarry, Brickyard Beach, Drumbeg Park, Petroglyphs, Sandwell Park and many other beautiful spots. Gabriola is a completely self contained island. For your convenience there is a full service supermarket, seafood market, liquor store, video rentals, restaurants, beauty parlour, massage therapy, apothecary, 1 service station and 1 gas stations. There are also artisan and gift shops, art galleries and a museum to explore.
PROPERTY IS ALSO PERFECT FOR A FAMILY REUNION, WEDDING, CORPORATE RETREAT, OR ANY LARGE FUNCTION. The main house (though not available for over night rental) is perfect for that large reception. With a deck area of more than 5000 square feet, as well as the more than 3000 ft of living room, kitchen and dinning areas it has easily handled large functions, and parties for more than 100. Smaller more intimate events are also welcome. In addition there is plenty of parking for a large number of vehicles. The 3 rental houses together have accommodated more than 20 quests comfortably. We have had the occasional RV, & or tents that our clients have brought to accommodate overflow. Children love to pitch tents around the property. We have a barbecue large enough for any occasion. Staff, catering, and entertainment may also be arranged.